Hello! I'm Kes Otter Lieffe.
I'm a working-class, trans woman, an author and grassroots community organiser based in Berlin.
---
News and updates
For regular news and updates on my writing and organising work, you can subscribe to my newsletter or head over to my news page.
---
Story-telling for Engagement
In this course I offer a route through the waters of narrative, guiding you towards the story you want to tell. I'll help you use some classic narrative devices – building a plot, show-don't tell, writing for your audience and choosing your frame – to create a story that enthrals and sparks action in others.
---
Novels
I write transfeminist speculative fiction novels centring marginalised experiences in powerful, deeply diverse resistance movements.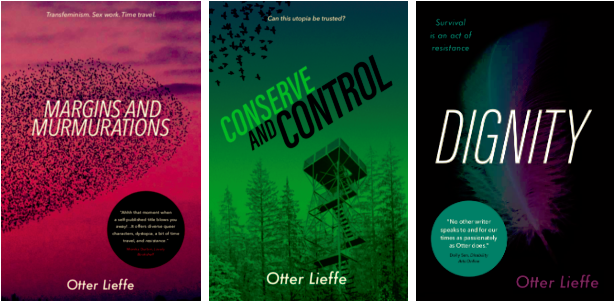 ---
Organising
I'm a community organiser with aequa – a community for social equity working on mutual support, collective empowerment and collaborative action in Berlin, Germany
---
Queer Animals
As a trans woman and an ecologist, I've written extensively about queerness in non-human nature. There's something about knowing that there are lesbian lizards in the world and orgies of gay manatees and polyamorous oystercatchers and trans clownfish and bisexual red deer and masturbating baboons and kissing zebras that just gives me hope.
---
Articles and interviews
I also write non-fiction articles about class, gender and queerness. Check out Medium for more of my work and listen to some of these cute interviews. I also had this article on utopias and marginalisation published in Strange Horizons recently.
---