---
Awarded an honorable mention, Tiptree award, 2018
Now available in German / Jetzt auf Deutsch erhältlich
---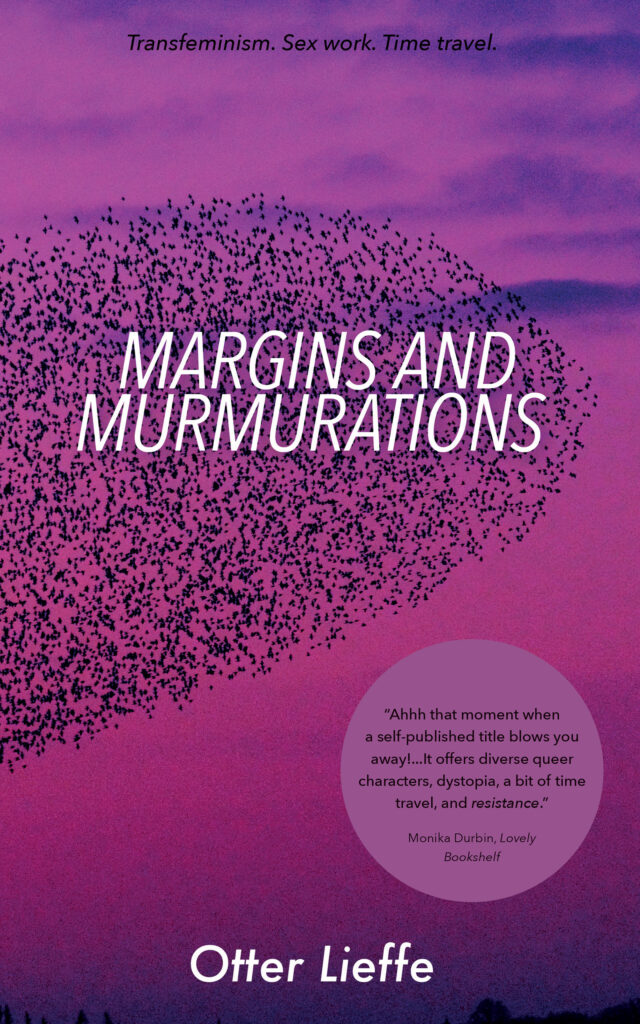 Transfeminism. Sex work. Time travel.
This speculative fiction novel puts transgender, s3x work and femininity at the centre. In this sensitive exploration of exclusion, Otter Lieffe calls us to renew our struggles against oppression and to proudly reclaim the margins that so many of us call home.
After the economic crises of the 2020s, a corner of Europe known only as the State has become a monoculture of gender, sexuality, ability and race. Forced to leave their home, Ash and Pinar, elder leaders of the Resistance, have made a new, quieter life in the forest.

But nothing lasts forever.

These best friends answer the calls of the past – and the future – to rejoin their community and face their oppressors head on. As a movement, they organise for dignity and self-determination. Together, they fight to survive.
Margins can be read as a trilogy, in any order, or as stand-alone stories.
---
Margins and Murmurations is now available from the webshop as well as at many local bookstores, public libraries, Bookshop.org, Indiebound, Hive.co.uk, Barnes and Noble, Indigo and Amazon. Stores and libraries are usually able to order it in, so feel free to ask 💕
---
Praise for Margins:
"Reviewing self-published books is less and less of a gamble. When reading trans literatures, reading self-published books is a necessity. Even now that traditional publishing is increasingly open to trans themes, there are entire swathes of trans experiences that surface mostly only in self-published and small-press works. Margins and Murmurations by Otter Lieffe is a strong illustration of this phenomenon, in multiple respects: from the friendly portrayals of s3x workers to non-cis-passing trans women being hounded even by supposed feminists, it brings topics into speculative fiction that are still far from the mainstream."
—Bogi Takács, Strange Horizons
"It is difficult to find fiction where you can see yourself reflected back, with characters you can relate to. I am not trans, but identify as gender queer, so this putting of gender and queerness on the table gave me a narrative feast. A murmuration is a stunning sky-filled congregation of hundreds of starlings, dancing like a heartbroken cloud, as one. In that way, I felt part of this book.
It is such a beautiful book that deserves wider exposure."
—Dolly Sen, Disability Arts Online
"Ahhh that moment when a self-published title blows you away! Otter Lieffe's novel Margins and Murmurations was fantastic. It offers diverse queer characters, dystopia, a bit of time travel, and resistance…This novel is transfeminist, intersectional, and anti-capitalist. It calls out trans-exclusionary radical feminists (TERFs), people who tokenize their marginalized friends and loved ones, the objectification of s3x workers, and more. Gender-inclusive language and pronouns are used where applicable. It's amazing. Trans and nonbinary readers will see themselves and their experiences in this novel. Cis readers will hopefully learn a lot from it…Margins and Murmurations includes pieces of history, especially through Ash's travels in time. I had to pause to go down the Google rabbit hole more than once, and I always love when a book makes me do that. The writing is lovely, it has a nice quick pace, it's exciting, and it's #ownvoices. Highly recommend."
—Monika Durbin, Lovely Bookshelf
---
New:
A list of potential content warnings.
.