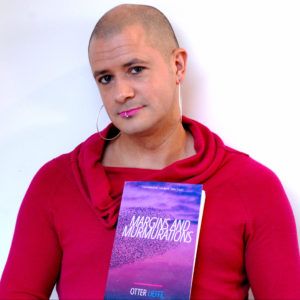 I go by Otter or Kes (pronouned with a soft s like kestrel.) I use she/her pronouns.
My story:
Some of my earliest memories are of walks in polluted woods, a profound love for the living beings I met there and a burning desire to protect them from the devastation I saw all around me. Decades later, that fire has never left me. Exposed to radical left politics in my early 20s I embarked on a journey of anarchist social centres, squats and queer spaces, of gatherings and protest camps. In 2004 I had the honour of being invited to live and work with the MTD (Unemployed Workers' Movement) in Buenos Aires. The grassroots, revolutionary movement building I saw, and participated in (in whatever tiny ways), there changed me forever. I spent another decade mobilising and learning more about my place in movements for change. One day in a deep pit of PTSD curled up on a lumpy broken futon sofa-bed surrounded by the rumbling and crashing of a construction site, I began to write. Four years later I've pushed through the imposter syndrome that tells me every day that someone like me has nothing worth saying. Writing has brought me unimaginable new possibilities to organise and to connect. Writing about revolution while doing everything I can to create real change in this beautiful, threatened world is an incredible privilege I will never find the words to express. And the fire burns on.
Read more about some of the incredible organisations and collectives I've had the opportunity to work with over the last few years.
---
Bio:
Kes Otter Lieffe is a working class, chronically ill, femme, trans woman. She is an author, teacher and community organiser currently based in Berlin.
Kes is the author of a trilogy of trans feminist novels—Margins and Murmurations, Conserve and Control and Dignity. Her short story Synergy was published in 'Our Entangled Future' an anthology on social change and the climate crisis. Her short story Soft was published in the beautiful anthology on queer resilience, Glitter + Ashes. Kes is also the author of the colouring zine, Queer Animals, published by Microcosm, which will be made soon into a full colouring book.
A grassroots community organiser for over two decades, Kes has worked and organised in Europe, the Middle-East and Latin America with a particular focus on the intersection of gender, queerness and environmental struggles. Since publishing her first novel in 2017, Kes has been building networks to counter the systemic oppressions faced by working-class trans women. In 2018, she helped establish Books Beyond Bars, a trans/LGBTQIA prisoner support group in the UK. Kes is a community organiser with aequa in Berlin.
Kes facilitates workshops on subjects including trans-competency, queer ecology and consensus and has taught in various contexts from squats to universities. She also runs writing classes and has an online course, Writing from the Margins.
---