How do I become a trans fiction author? What about Imposter syndrome? Readers have asked me these questions a lot and I realised how crucial they are to a lot of queer and trans writers.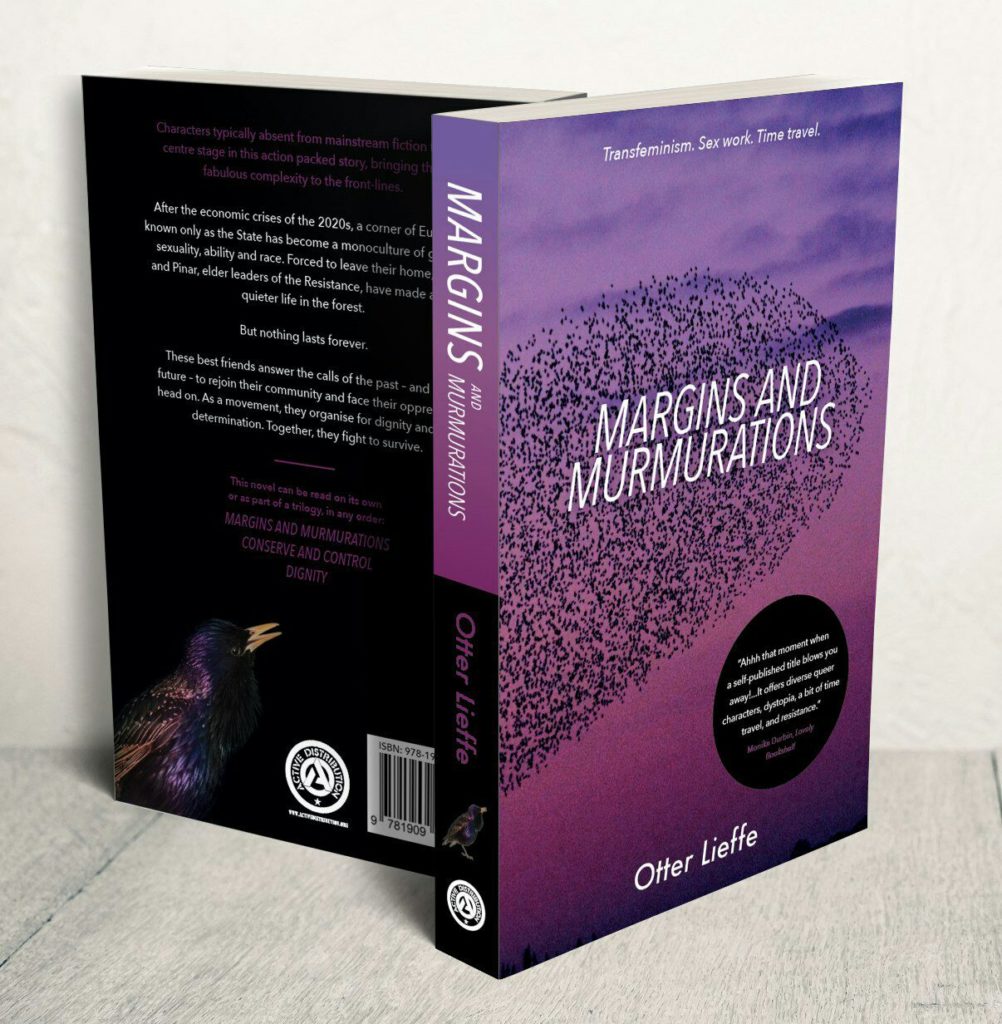 "I never saw this coming. I've imagined all sorts of things for my life, but writing a novel? Out of the question."
I wrote these words a little over five years ago in the introduction to my first novel, Margins and Murmurations. Since then, a lot has changed. The novel has become a trilogy and Margins will soon have a German translation. My writing has expanded to non-fiction. I've published a zine on the subject of queer ecology, a colouring book is on its way and there's more to come. I've written articles about class and gender and I'm about to release a new novel.
At some point I feel like I should start thinking of myself as a 'proper' author, but I'm not quite there yet. The success of Margins has taken me totally by surprise. Even the fact that I was able to get a book out into the world at all still seems kind of unreal. I had limited resources and had to crowdfund everything. I had zero public platform to mobilise. But it happened. I can honestly say I've never worked so hard for anything in my life.
Barriers and capacity
My answer to the first question – 'how do I become a trans fiction author' – is that it involves a huge amount of work. Every day with no weekends for several years kind of level.
This for me is the tragedy. I'm chronically ill, sometimes disabled, and capacity is something I reflect on a lot. I also personally have a lot of energy and refused to give up until I had achieved my goals for the novels. I've been fortunate.
Most marginalised people I know have incredibly important stories to tell. And many of us simply don't have the kind of capacity that's needed to get those stories out into the world. The capitalist publishing industry certainly isn't doing us any favours. With little representation or support, it can all seem impossible and the result is that these stories never make it out.
If only people who are middle-class, abled, white or cis (etc) get to tell their stories, we are missing a lot. The world needs more stories.
Imposing
Imposter syndrome is another big factor. I grew up without knowing that people like me could even be writers. I assumed that I was destined to a life of cleaning, care work or long hours at the factory (and I've done my fair share of all of those things). After all, who has time to be writing books? I didn't even grow up with a lot of books around me and fiction was a distant concept. Then I became an over-busy community organiser and it seemed even less likely to me.
Not everyone has this experience.
Several middle-class friends have told me that they've always had the sense that they would one day write a book. They just haven't gotten round to it yet, but they will. There's a general sense that they have something important enough to say, that they should say it, and that the world will support them. Privilege is complex but, in a way, I wish that middle-class confidence for all of us who are writing from the margins. Instead of doubting myself every day, I could lean in and share the stories that I want to. Maybe I could even click a button and send it to someone to take care of. In order for Margins to get out into the world, I had to organise everything myself. Typesetting, design, editing, proofreading, printing and distribution – this is what it took for me to become a trans fiction author.
Becoming a trans fiction author
This is a good moment to point out that writing has changed my life in a hundred amazing ways. I couldn't be more grateful.
Once I pushed through the barriers, I discovered that sharing stories can be amazing, heart-filled work. It can also create blueprints for what our community organising could look like. It has led to some of the solidarity organising of my dreams, new projects, connections, and friendships.
It's been such an adventure.
And this is something I'm desperate to share with other people in my communities. As I wrote in a recent article for Strange Horizons: "So what happens when a group of marginal people sit together to connect with the land and imagine three—or ten, or a hundred—beautiful, utopian things? Will those visions inspire us to make plans? What happens if we confront the rift between our hopes and our expectations, and explore ways to transform that pain into action?"
Towards change
As for many problems, I think the solution is a hundred tiny movements in the right direction. Queer and trans organised writing circles. Traditional and DIY publishers that centre marginalised authors. Platforms like Patreon (or their alternatives) which allow people with more resources to support those with less.
Stories are of collective value and we should support them collectively. We are often told the myth that we are only individuals competing with each other for limited resources. People in power tell us that our struggles are our own to face. That if we just try hard enough, we can succeed. That our failures are because we were too lazy to bother.
We deserve so much better than that.